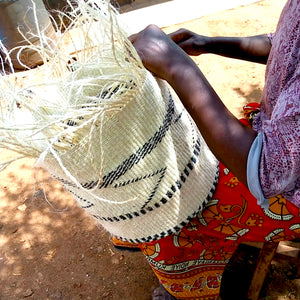 WEAVE BEAUTY INTO YOUR LIFE
Made from the Baobab tree, these baskets are a beautiful, earthy reminder of Africa.  Using only natural colours, and woven with a much finer weave than sisal and wool baskets, these Baobab baskets will last you a lifetime.  Very strong and durable, yet light and flexible, they made a perfect over-the shoulder shopping bag or large purse.  While they may look similar at first glance, each basket has its own stunning pattern and colouring.  
It can take up to a week to complete a basket, depending on its size and complexity.  Once finished, the baskets are handed to a fundi, or tradesperson, who adds the leather handles and details.  The baskets then begin their journey to us in Canada, and ultimately, on to you! 
---
7 products